The Fatal Flaw in Bahá'í Authority
  by Dale Husband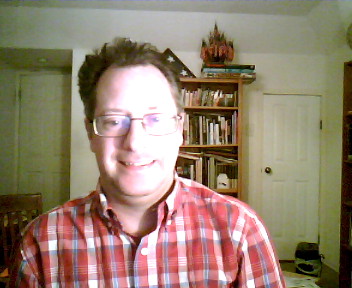 Dale Husband was born in Fort Worth, Texas, on May 8, 1969 and grew up in Haltom City, Texas. Originally a Protestant Christian, he has since taken a long spiritual journey through both Unitarian Universalism and the Bahá'í Faith and firmly supports the former. He now considers himself an agnostic and an "Honorable Skeptic", rejecting all dogmas and favoring reason and empiricism. He graduated from Tarrant County College in 2000 with a degree in science and currently works for Amazon. He is single with no children, but his love for all humanity motivates him every day.
                                          ******************
  Keywords
 The Bahá'í Faith ,The Bahá'í Leaders, Infallibility of the Bahá'í leaders, Baha'u'llah, Abdul-Baha, Shoghi Effendi, Universal House of Justice .
          The basic problem of authority in the Bahá'í Faith, with its false claim that those authorities are infallible, really becomes obvious when you consider the issue of the Guardianship, which Shoghi Effendi held from 1921 until his death in 1957. He was appointed to that position by his grandfather, Abdu'l-Baha.
            O ye the faithful loved ones of Abdu'l-Baha! it is incumbent upon you to take the greatest care of Shoghi Effendi… For he is, after Abdu'l-Baha, the Guardian of the Cause of God… He that obeyeth him not, hath not obeyed God; he that turneth away from him, hath turned away from God and he that denieth him, hath denied the True One… All must seek guidance and turn unto the Center of the Cause and the House of Justice. And he that turneth unto whatsoever else is indeed in grievous error.
(`Abdu'l-Baha, Will and Testament, p. 25-26)
  Later, Shoghi Effendi himself wrote

            "Divorced from the institution of the Guardianship the World Order of Baha'u'llah would be mutilated and permanently deprived of that hereditary principle which, as Abdu'l-Baha has written, has been invariably upheld by the Law of God. …Without such an institution the integrity of the Faith would be imperiled, and the stability of the entire fabric would be gravely endangered. its prestige would suffer, the means required to enable it to take a long, an uninterrupted view over a series of generations would be completely lacking, and the necessary guidance to define the sphere of the legislative action of its elected representatives would be totally withdrawn."
(Shoghi Effendi, World Order of Baha'u'llah, p. 148)
            It stands to reason that if Shoghi Effendi must be obeyed absolutely as the representative of God's will, then he himself must obey the Bahá'í commandments that came before him. If he was disobedient to Bahá'í laws, then no one should obey him!
      Baha'u'llah, the founder of the Bahá'í Faith, stated in his book of laws, the Kitab-i-Aqdas, paragraph 109:
      "Unto everyone hath been enjoined the writing of a will."
            Likewise, Abdul-Baha, son of Baha'u'llah, in the very Will and Testament by which he appointed Shoghi Effendi to the Guardianship, stated:
           "It is incumbent upon the Guardian of the Cause of God to appoint in his own life-time him that shall become his successor, that differences may not arise after his passing. He that is appointed must manifest in himself detachment from all worldly things, must be the essence of purity, must show in himself the fear of God, knowledge, wisdom and learning. Thus, should the first-born of the Guardian of the Cause of God not manifest in himself the truth of the words:—"The child is the secret essence of its sire," that is, should he not inherit of the spiritual within him (the Guardian of the Cause of God) and his glorious lineage not be matched with a goodly character, then must he, (the Guardian of the Cause of God) choose another branch to succeed him."
(Abd'ul-Baha, Will and Testament, p. 12)
            Shoghi Effendi did none of these things. He had no children, and in fact he expelled every other descendant of his own grandfather from the Faith, as "Covenant-breakers", thus betraying the Faith. When he died in 1957, he left no will and had appointed no successor, thus failing to obey the very Covenant he was expected to uphold.
            With no further guidance from the Guardian, the Hands of the Cause of God that he had appointed to assist him, did the only thing they could to keep the Bahá'í Faith alive: They took over the Faith and arranged for the eventual election of the Universal House of Justice in 1963. But without a Guardian to preside over that body, it would never be in accordance with the very writings that established its authority. And the only ones who could be Guardian were the male descendants of Baha'u'llah, all of whom were excluded from the Faith by the first Guardian!
            Indeed, the simple fact that Shoghi Effendi disobeyed both Baha'u'llah and Abdul-Baha by not leaving a will, by expelling all his own relatives from the Faith, and not appointing ,in his lifetime, one of his brothers or male cousins as his successor to the Guardianship, should be enough to demonstrate that there is NO "true" Bahá'í Faith existing today. Its authority is meaningless by the testimony of its own history!
            And perhaps this was inevitable, since Baha'u'llah himself warned his successors in the Faith not to exceed the proper bounds of their authority. Referring again to the Kitab-i-Aqdas, we find this as paragraph 37:
           "Whoso lays claim to a Revelation direct from God, ere the expiration of a full thousand years, such a man is assuredly a lying impostor. We pray God that He may graciously assist him to retract and repudiate such claim. Should he repent, God will, no doubt, forgive him. If, however, he persists in his error, God will, assuredly, send down one who will deal mercilessly with him. Terrible, indeed, is God in punishing! Whosoever interprets this verse otherwise than its obvious meaning is deprived of the Spirit of God and of His mercy which encompass all created things. Fear God, and follow not your idle fancies. Nay, rather, follow the bidding of your Lord, the Almighty, the All-Wise. Erelong shall clamorous voices be raised in most lands. Shun them, O My people, and follow not the iniquitous and evil-hearted. This is that of which We gave you forewarning when We were dwelling in Iraq, then later while in the Land of Mystery, and now from this Resplendent Spot." (Emphasis mine)
          Since any Bahá'í would affirm that Abdul-Baha is inferior in rank to Baha'u'llah, we have to apply consistent logic to the Bahá'í Writings; and when we do…
            "The sacred and youthful branch, the guardian of the Cause of God as well as the Universal House of Justice, to be universally elected and established, are both under the care and protection of the Abha Beauty, under the shelter and unerring guidance of His Holiness, the Exalted One (may my life be offered up for them both). Whatsoever they decide is of God. Whoso obeys him not, neither obey them, hath not obeyed God; whoso rebels against him and against them has rebelled against God; whoso opposes him hath opposed God; whoso contends with them has contended with God; whoso disputes with him has disputed with God; whoso denies him has denied God; whoso disbelieves in him has disbelieved in God; whoso deviates, separates himself and turns aside from him has in truth deviated, separated himself and turned aside from God! May the wrath, the fierce indignation, the vengeance of God rest upon him!"
(Abdul-Baha, Will and Testament, p. 11 [Emphasis mine])
            There is no way that passage can be reconciled with the one of Baha'u'llah denying that anyone can receive direct revelation from God before the passage of 1000 years. And that might explain why Shoghi Effendi died without issue at the relatively young age of 60, in the midst of the Ten Year World Crusade he was leading. He was probably struck down by God himself just as Baha'u'llah would have predicted. And despite the desperate efforts made ever since to teach and proclaim the Bahá'í Faith under the Universal House of Justice, it remains to this day a small, cult like body scattered over the world, with no potential to make any real difference in the world at large.
            To all readers, I implore you to be fair in your judgement and search your feelings. The Bahá'í Faith is a failure and you need not be bound by laws, authorities, or institutions that are not based on truth. If you belong to the mainstream Bahá'í Faith that follows the Guardianship-less Universal House of Justice, or one of the splinter groups that rejected the authority of that body, the fact remains that you follow a spiritually dead faith and are totally wasting your time. The Bahá'í Faith in its present form will never become the great religion of the world Baha'u'llah and Abdul-Baha envisioned it to be, because Shoghi Effendi ruined it with his blind assumption of his own infallibility! His own relatives questioned his decisions and were expelled for doing that. If you cannot question authority, it can destroy you. Or, in this case, the credibility of the authority is destroyed and opposing it becomes a moral obligation. Let it be so!