Introduction to Baha`i Principles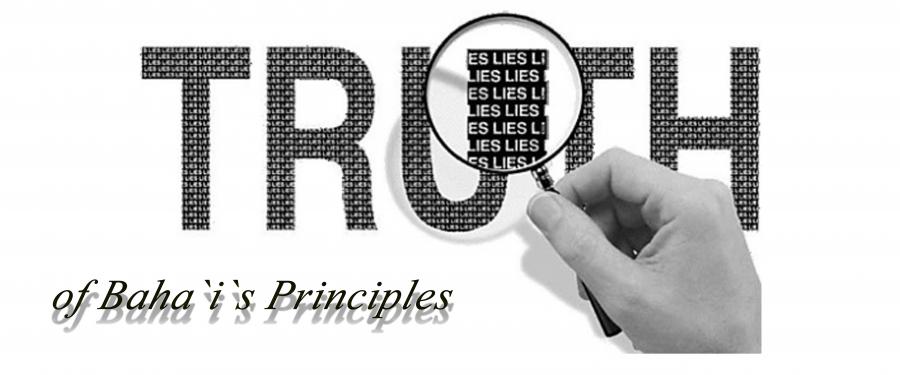 I present this section on Baha`i teachings to bring forth the truth of the Baha`i Faith. My focus is to consider the 12 principles which is the focal point of the Baha`i teachings. I have undertaken an objective study of these principles and found that the Baha`i Faith has nothing to do with its teachings.
          I have made this section for the seeker of truth and for all, so that one is not fooled by the high flying diktats of the Baha`i teachings, but independently analyses them. The journey into the principles will only tell that they for public consumption, and lack an iota of sincerity and honesty.
          At the first instance, the Bahai teachings would look attractive. They are like the cosmetic make-up worn. But, below the makeup are powerful approaches to harm humankind. The Baha`i Faith is analogous to a snake - soft to touch but filled with venom. The gullible are enchanted with its softness, but the sensible ones know its deception.
I take the opportunity to present the behind the scene truth in the Bahai call towards:
• Equality of women and men
• Universal auxiliary language
          It would be of interest to note, that all of the Baha`i principles lack any conclusive doctrine, which you too shall vouch for at the end of the read. The section would bring to fore the confusion amongst the Bahai leaders about the interpretation of the teachings and the interpretations done to follow the direction of the wind.
          While the Baha`i Faith boasts of being a progressive religion, an investigation into the Faith and its teachings reveals it is no religion; but, an organization craving worldly numbers. To sum it all, the educated reader will not reach but one conclusion. The Baha`i Faith is a progressive religion, only in one sense - changing its interpretation progressively.
  By Dr. Mohammed Alam Qurayshi